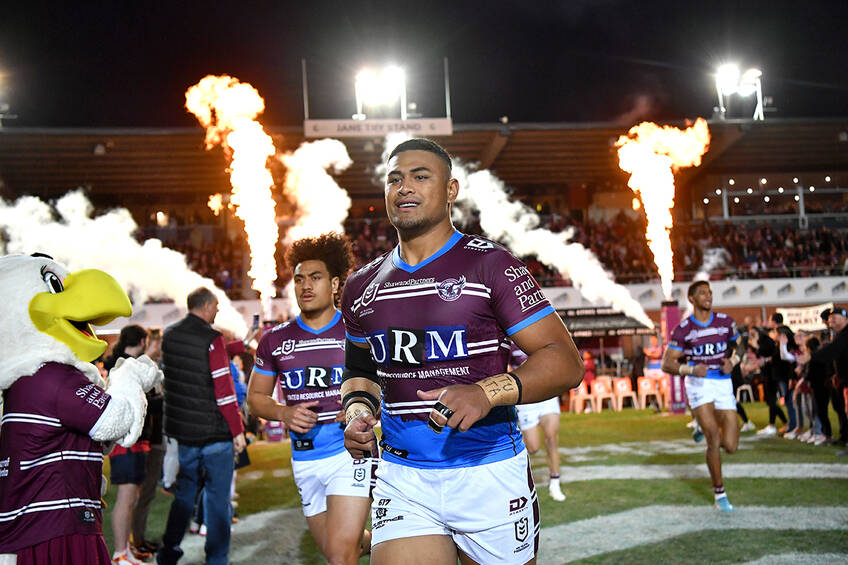 #11 Haumole Olakau'atu Player-Issued Sea Eagles Community Jersey
Auction End: 24 July 2022 19:00 (AEDT)
To see how FAN+ auctions work use this link.
Own a piece of history with Haumole Olakau'atu's signed player-issued Community jersey from the Sea Eagles Round 18 NRL clash against the Newcastle Knights.
Proceeds from the auction will be donated to the Sea Eagles Foundation, supporting the long-term success of the Club both on and off the field. The jersey is accompanied by a Certificate of Authenticity.

Place your bid now – don't miss out on your chance to own a unique piece of Sea Eagles history.

Note: this jersey was player-issued for the game, but not actually worn.
Please login to bid.
If you do not have an account register here.
Bid History
| | | |
| --- | --- | --- |
| Date/Time | Amount | Bidder Name/User |
| 19 July 2022 19:49 | $800.00 | David B |
| 19 July 2022 19:49 | $800.00 | Jason M |
| 19 July 2022 18:39 | $760.00 | David B |
| 19 July 2022 18:39 | $750.00 | Jason M |
| 19 July 2022 18:39 | $710.00 | David B |
| 19 July 2022 18:39 | $700.00 | Jason M |
| 19 July 2022 16:26 | $660.00 | David B |
| 19 July 2022 16:26 | $650.00 | Jason M |
| 19 July 2022 15:32 | $610.00 | David B |
| 19 July 2022 15:32 | $600.00 | Jason M |
| 19 July 2022 15:31 | $560.00 | David B |
| 19 July 2022 15:31 | $550.00 | Jason M |
| 19 July 2022 15:31 | $530.00 | David B |
| 19 July 2022 13:31 | $520.00 | Jake Hawke |
| 19 July 2022 12:42 | $510.00 | Shaq Joynson |
| 19 July 2022 12:42 | $500.00 | David B |
| 19 July 2022 12:42 | $500.00 | Shaq Joynson |
| 19 July 2022 12:40 | $490.00 | David B |
| 19 July 2022 12:40 | $480.00 | Shaq Joynson |
| 19 July 2022 12:39 | $470.00 | David B |
| 19 July 2022 12:39 | $460.00 | Shaq Joynson |
| 19 July 2022 12:39 | $450.00 | David B |
| 19 July 2022 12:39 | $440.00 | Shaq Joynson |
| 19 July 2022 12:39 | $430.00 | David B |
| 19 July 2022 12:39 | $420.00 | Shaq Joynson |
| 19 July 2022 12:32 | $410.00 | David B |
| 19 July 2022 12:22 | $250.00 | Jake Hawke |