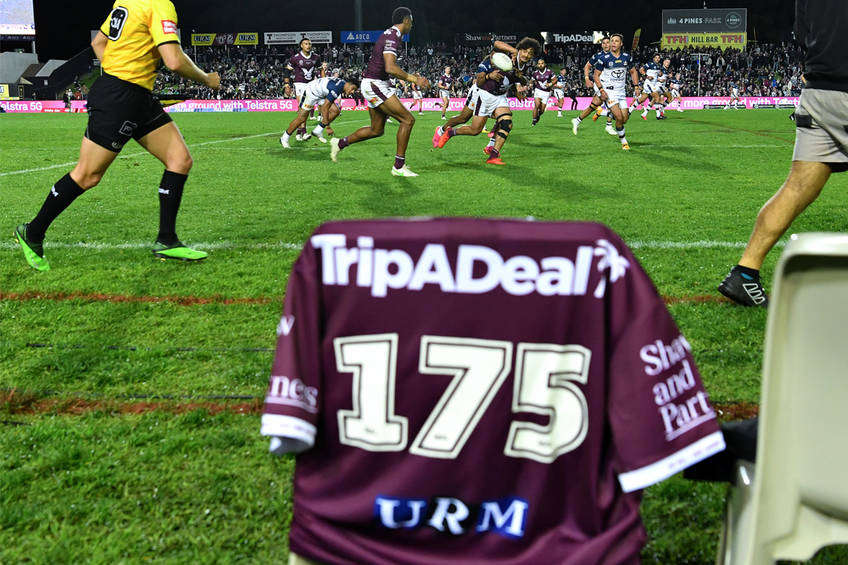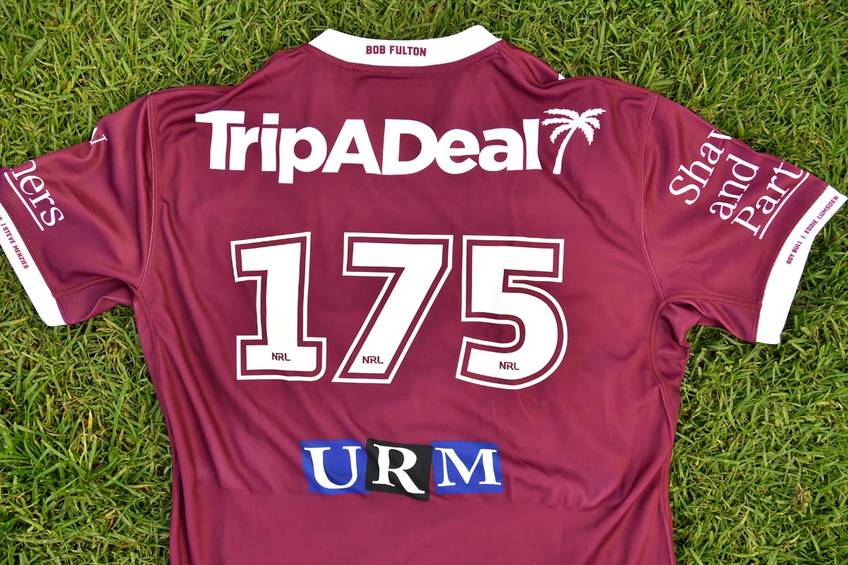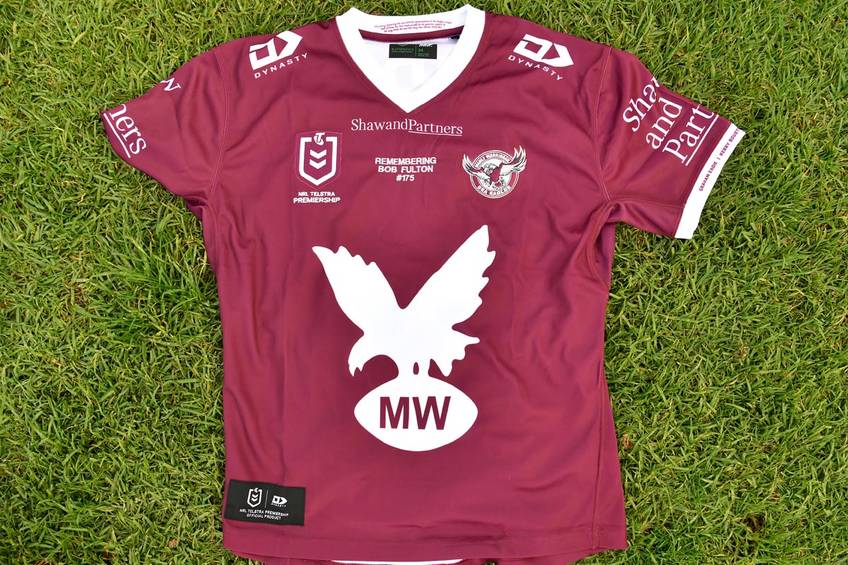 #175 BOB FULTON TEAM SIGNED & FRAMED HERITAGE JERSEY
Auction End: 18 June 2021 19:00 (AEDT)
To see how FAN+ auctions work use this link.
Round 14 saw the Sea Eagles defeat the North Queensland Cowboys in an unforgettable 50-18 victory. In a heartfelt tribute during the match, a dedicated Manly Warringah Sea Eagles 2021 Heritage Jersey was placed on the sideline during the game in recognition of Bob Fulton. You have the opportunity to own this unique one-off tribute jersey.

This special double-framed jersey shows both the font of the jersey which features a large sea eagle on the front and pays homage to the 1957-1964 style of jersey won by the Sea Eagles, and the back of the jersey includes Bob Fulton #175, paying respects the NRL Hall of Fame Inductee and Sea Eagles Legend, Bob Fulton. In addition, the jersey has 'Remembering Bob Fulton #175' embroidery on the centre chest and his name on the back of the jersey collar. Roy Bull, Eddie Lumsden, Ken Irvine, John O'Neill, Graham Eadie, Kerry Boustead, Cliff Lyons and Steve Menzies also have their names on the jersey sleeves.

This Heritage Jersey is signed by the NRL squad and Head Coach, Des Hasler. This framed piece will also include images and a plaque commemorating the special night, to make this a truly special piece of Sea Eagles history.

Proceeds from the auction will be donated to the Sea Eagles Foundation, supporting the long-term success of the Club both on and off the field. The jersey is accompanied by a Certificate of Authenticity.
Please login to bid.
If you do not have an account register here.
Bid History
| | | |
| --- | --- | --- |
| Date/Time | Amount | Bidder Name/User |
| 18 June 2021 18:59 | $18,510.00 | INDUSTREE |
| 18 June 2021 18:54 | $17,530.00 | AndWeDont'Care |
| 18 June 2021 18:44 | $17,520.00 | Alex b |
| 18 June 2021 18:20 | $17,510.00 | Jason |
| 18 June 2021 18:19 | $17,500.00 | AndWeDont'Care |
| 18 June 2021 18:19 | $17,500.00 | Jason |
| 18 June 2021 18:19 | $17,030.00 | AndWeDont'Care |
| 18 June 2021 18:19 | $17,020.00 | Jason |
| 18 June 2021 18:18 | $17,010.00 | AndWeDont'Care |
| 18 June 2021 18:17 | $16,510.00 | RJ |
| 18 June 2021 18:17 | $16,500.00 | AndWeDont'Care |
| 18 June 2021 18:17 | $16,500.00 | RJ |
| 18 June 2021 18:17 | $16,010.00 | AndWeDont'Care |
| 18 June 2021 18:17 | $16,000.00 | RJ |
| 18 June 2021 18:16 | $15,510.00 | AndWeDont'Care |
| 18 June 2021 18:16 | $15,010.00 | RJ |
| 18 June 2021 18:16 | $14,510.00 | AndWeDont'Care |
| 18 June 2021 18:15 | $13,570.00 | RJ |
| 18 June 2021 18:15 | $13,560.00 | AndWeDont'Care |
| 18 June 2021 18:15 | $13,550.00 | RJ |
| 18 June 2021 18:15 | $13,540.00 | AndWeDont'Care |
| 18 June 2021 18:15 | $13,530.00 | RJ |
| 18 June 2021 18:15 | $13,520.00 | AndWeDont'Care |
| 18 June 2021 18:14 | $13,510.00 | RJ |
| 18 June 2021 18:14 | $13,500.00 | AndWeDont'Care |
| 18 June 2021 18:14 | $13,500.00 | RJ |
| 18 June 2021 18:12 | $12,510.00 | AndWeDont'Care |
| 18 June 2021 18:12 | $12,010.00 | RJ |
| 18 June 2021 18:11 | $11,120.00 | Jason |
| 18 June 2021 18:10 | $11,110.00 | RJ |
| 18 June 2021 18:10 | $11,100.00 | Jason |
| 18 June 2021 18:10 | $11,090.00 | RJ |
| 18 June 2021 18:10 | $11,080.00 | Jason |
| 18 June 2021 18:10 | $11,070.00 | RJ |
| 18 June 2021 18:10 | $11,060.00 | Jason |
| 18 June 2021 18:10 | $11,050.00 | RJ |
| 18 June 2021 18:10 | $11,040.00 | Jason |
| 18 June 2021 18:10 | $11,030.00 | RJ |
| 18 June 2021 18:10 | $11,020.00 | Jason |
| 18 June 2021 18:09 | $11,010.00 | RJ |
| 18 June 2021 18:08 | $10,560.00 | Jason |
| 18 June 2021 18:08 | $10,510.00 | RJ |
| 18 June 2021 18:08 | $10,500.00 | Jason |
| 18 June 2021 18:07 | $10,310.00 | RJ |
| 18 June 2021 18:06 | $10,280.00 | Jason |
| 18 June 2021 18:06 | $10,270.00 | RJ |
| 18 June 2021 18:06 | $10,260.00 | Jason |
| 18 June 2021 18:05 | $10,200.00 | AndWeDont'Care |
| 18 June 2021 18:05 | $10,190.00 | Jason |
| 18 June 2021 18:05 | $10,180.00 | AndWeDont'Care |
| 18 June 2021 18:05 | $10,170.00 | Jason |
| 18 June 2021 18:05 | $10,160.00 | AndWeDont'Care |
| 18 June 2021 18:05 | $10,150.00 | Jason |
| 18 June 2021 18:05 | $10,140.00 | AndWeDont'Care |
| 18 June 2021 18:05 | $10,130.00 | Jason |
| 18 June 2021 18:05 | $10,120.00 | AndWeDont'Care |
| 18 June 2021 18:05 | $10,110.00 | Jason |
| 18 June 2021 18:04 | $10,100.00 | AndWeDont'Care |
| 18 June 2021 18:04 | $10,090.00 | Jason |
| 18 June 2021 18:04 | $10,080.00 | AndWeDont'Care |
| 18 June 2021 18:04 | $10,070.00 | Jason |
| 18 June 2021 18:04 | $10,060.00 | AndWeDont'Care |
| 18 June 2021 18:04 | $10,050.00 | Jason |
| 18 June 2021 17:25 | $10,040.00 | AndWeDont'Care |
| 18 June 2021 10:38 | $10,030.00 | Wayne |
| 17 June 2021 17:11 | $10,020.00 | Jason |
| 16 June 2021 22:22 | $10,010.00 | Pdidds |
| 16 June 2021 22:22 | $10,000.00 | Jason |
| 16 June 2021 22:22 | $9,990.00 | Pdidds |
| 16 June 2021 22:22 | $9,910.00 | Jason |
| 16 June 2021 22:22 | $9,900.00 | Pdidds |
| 16 June 2021 22:22 | $9,560.00 | Jason |
| 16 June 2021 22:22 | $9,550.00 | Pdidds |
| 16 June 2021 22:22 | $9,510.00 | Jason |
| 16 June 2021 22:22 | $9,500.00 | Pdidds |
| 16 June 2021 22:21 | $9,010.00 | Jason |
| 16 June 2021 22:21 | $9,000.00 | Pdidds |
| 16 June 2021 22:21 | $8,760.00 | Jason |
| 16 June 2021 22:21 | $8,750.00 | Pdidds |
| 16 June 2021 22:21 | $8,550.00 | Jason |
| 16 June 2021 22:21 | $8,540.00 | Pdidds |
| 16 June 2021 22:21 | $8,530.00 | Jason |
| 16 June 2021 22:21 | $8,520.00 | Pdidds |
| 16 June 2021 21:53 | $8,510.00 | Jason |
| 16 June 2021 21:53 | $8,500.00 | Pdidds |
| 16 June 2021 21:45 | $8,020.00 | Jason |
| 16 June 2021 21:33 | $8,010.00 | Pdidds |
| 16 June 2021 21:33 | $8,000.00 | Jason |
| 16 June 2021 21:33 | $8,000.00 | Pdidds |
| 16 June 2021 21:33 | $7,610.00 | Jason |
| 16 June 2021 21:33 | $7,600.00 | Pdidds |
| 16 June 2021 21:33 | $7,510.00 | Jason |
| 16 June 2021 21:33 | $7,500.00 | Pdidds |
| 16 June 2021 21:33 | $7,110.00 | Jason |
| 16 June 2021 21:33 | $7,100.00 | Pdidds |
| 16 June 2021 21:31 | $7,020.00 | Jason |
| 16 June 2021 21:00 | $7,010.00 | Pdidds |
| 16 June 2021 20:59 | $7,000.00 | Jason |
| 16 June 2021 20:59 | $7,000.00 | Pdidds |
| 16 June 2021 20:59 | $6,510.00 | Jason |
| 16 June 2021 20:59 | $6,500.00 | Pdidds |
| 16 June 2021 20:59 | $6,210.00 | Jason |
| 16 June 2021 20:59 | $6,200.00 | Pdidds |
| 16 June 2021 20:59 | $6,110.00 | Jason |
| 16 June 2021 20:59 | $6,100.00 | Pdidds |
| 16 June 2021 20:54 | $6,030.00 | Jason |
| 16 June 2021 20:36 | $6,010.00 | Pdidds |
| 16 June 2021 20:36 | $6,000.00 | Jason |
| 16 June 2021 20:36 | $6,000.00 | Pdidds |
| 16 June 2021 20:36 | $5,910.00 | Jason |
| 16 June 2021 20:36 | $5,900.00 | Pdidds |
| 16 June 2021 20:35 | $5,710.00 | Jason |
| 16 June 2021 20:35 | $5,700.00 | Pdidds |
| 16 June 2021 20:35 | $5,610.00 | Jason |
| 16 June 2021 20:35 | $5,600.00 | Pdidds |
| 16 June 2021 20:35 | $5,510.00 | Jason |
| 16 June 2021 20:35 | $5,500.00 | Pdidds |
| 16 June 2021 20:35 | $5,229.00 | Jason |
| 16 June 2021 20:35 | $5,219.00 | Pdidds |
| 16 June 2021 16:23 | $5,209.00 | Jason |
| 16 June 2021 16:14 | $5,010.00 | RJ |
| 16 June 2021 16:13 | $5,000.00 | Jason |
| 16 June 2021 16:13 | $4,999.00 | RJ |
| 16 June 2021 13:14 | $4,810.00 | Jason |
| 15 June 2021 23:31 | $4,760.00 | Wayne |
| 15 June 2021 23:31 | $4,660.00 | AndWeDont'Care |
| 15 June 2021 23:31 | $4,650.00 | Wayne |
| 15 June 2021 23:30 | $4,610.00 | AndWeDont'Care |
| 15 June 2021 23:30 | $4,600.00 | Wayne |
| 15 June 2021 23:30 | $4,530.00 | AndWeDont'Care |
| 15 June 2021 23:30 | $4,520.00 | Wayne |
| 15 June 2021 21:19 | $4,510.00 | AndWeDont'Care |
| 15 June 2021 21:19 | $4,500.00 | Jason |
| 15 June 2021 21:19 | $4,500.00 | AndWeDont'Care |
| 15 June 2021 21:18 | $4,080.00 | Jason |
| 15 June 2021 21:18 | $4,070.00 | AndWeDont'Care |
| 15 June 2021 21:18 | $4,060.00 | Jason |
| 15 June 2021 21:18 | $4,050.00 | AndWeDont'Care |
| 15 June 2021 20:34 | $4,040.00 | Jason |
| 15 June 2021 20:34 | $4,010.00 | Eagle Dares |
| 15 June 2021 20:34 | $4,000.00 | Jason |
| 15 June 2021 20:33 | $3,510.00 | Eagle Dares |
| 15 June 2021 20:33 | $3,500.00 | Jason |
| 15 June 2021 20:32 | $3,180.00 | Eagle Dares |
| 15 June 2021 20:32 | $3,170.00 | Jason |
| 15 June 2021 20:32 | $3,160.00 | Eagle Dares |
| 15 June 2021 20:32 | $3,150.00 | Jason |
| 15 June 2021 20:32 | $3,140.00 | Eagle Dares |
| 15 June 2021 20:32 | $3,130.00 | Jason |
| 15 June 2021 19:48 | $3,120.00 | Eagle Dares |
| 15 June 2021 19:48 | $3,110.00 | Larko |
| 15 June 2021 19:48 | $3,100.00 | Eagle Dares |
| 15 June 2021 19:48 | $3,090.00 | Larko |
| 15 June 2021 19:48 | $3,080.00 | Eagle Dares |
| 15 June 2021 19:48 | $3,070.00 | Larko |
| 15 June 2021 17:52 | $3,060.00 | Eagle Dares |
| 15 June 2021 17:52 | $3,050.00 | Alexander |
| 15 June 2021 17:42 | $3,040.00 | Eagle Dares |
| 15 June 2021 17:42 | $3,030.00 | Lash |
| 15 June 2021 15:29 | $3,020.00 | Eagle Dares |
| 15 June 2021 15:21 | $3,010.00 | Wayne |
| 15 June 2021 15:21 | $3,000.00 | Eagle Dares |
| 15 June 2021 15:21 | $3,000.00 | Wayne |
| 15 June 2021 15:21 | $2,910.00 | Eagle Dares |
| 15 June 2021 15:21 | $2,900.00 | Wayne |
| 15 June 2021 15:20 | $2,810.00 | Eagle Dares |
| 15 June 2021 15:20 | $2,800.00 | Wayne |
| 15 June 2021 15:20 | $2,710.00 | Eagle Dares |
| 15 June 2021 15:20 | $2,700.00 | Wayne |
| 15 June 2021 15:20 | $2,680.00 | Eagle Dares |
| 15 June 2021 15:20 | $2,670.00 | Wayne |
| 15 June 2021 15:20 | $2,660.00 | Eagle Dares |
| 15 June 2021 15:20 | $2,650.00 | Wayne |
| 15 June 2021 15:20 | $2,550.00 | Eagle Dares |
| 15 June 2021 15:20 | $2,540.00 | Wayne |
| 15 June 2021 15:20 | $2,530.00 | Eagle Dares |
| 15 June 2021 15:20 | $2,520.00 | Wayne |
| 15 June 2021 15:19 | $2,510.00 | Eagle Dares |
| 15 June 2021 15:19 | $2,500.00 | Wayne |
| 15 June 2021 15:19 | $2,410.00 | Eagle Dares |
| 15 June 2021 15:19 | $2,400.00 | Wayne |
| 15 June 2021 15:19 | $2,360.00 | Eagle Dares |
| 15 June 2021 15:19 | $2,350.00 | Wayne |
| 15 June 2021 15:19 | $2,310.00 | Eagle Dares |
| 15 June 2021 15:19 | $2,300.00 | Wayne |
| 15 June 2021 15:19 | $2,230.00 | Eagle Dares |
| 15 June 2021 15:19 | $2,220.00 | Wayne |
| 15 June 2021 15:18 | $2,210.00 | Eagle Dares |
| 15 June 2021 15:18 | $2,200.00 | Wayne |
| 15 June 2021 15:18 | $2,120.00 | Eagle Dares |
| 15 June 2021 15:18 | $2,110.00 | Wayne |
| 15 June 2021 15:18 | $2,100.00 | Eagle Dares |
| 15 June 2021 15:18 | $2,090.00 | Wayne |
| 15 June 2021 15:17 | $2,080.00 | Eagle Dares |
| 15 June 2021 15:17 | $2,070.00 | Jason |
| 15 June 2021 15:14 | $2,060.00 | Eagle Dares |
| 15 June 2021 15:14 | $2,050.00 | Wayne |
| 15 June 2021 15:14 | $2,040.00 | Eagle Dares |
| 15 June 2021 15:14 | $2,030.00 | Wayne |
| 15 June 2021 15:13 | $2,020.00 | Eagle Dares |
| 15 June 2021 15:00 | $2,010.00 | Wayne |
| 15 June 2021 15:00 | $2,000.00 | eastonj |
| 15 June 2021 15:00 | $1,990.00 | Wayne |
| 15 June 2021 15:00 | $1,910.00 | eastonj |
| 15 June 2021 15:00 | $1,900.00 | Wayne |
| 15 June 2021 15:00 | $1,830.00 | eastonj |
| 15 June 2021 15:00 | $1,820.00 | Wayne |
| 15 June 2021 14:59 | $1,810.00 | eastonj |
| 15 June 2021 14:58 | $1,760.00 | Wayne |
| 15 June 2021 14:58 | $1,750.00 | eastonj |
| 15 June 2021 14:58 | $1,750.00 | Wayne |
| 15 June 2021 14:58 | $1,730.00 | eastonj |
| 15 June 2021 14:58 | $1,720.00 | Wayne |
| 15 June 2021 14:57 | $1,710.00 | eastonj |
| 15 June 2021 14:56 | $1,700.00 | Wayne |
| 15 June 2021 14:56 | $1,700.00 | eastonj |
| 15 June 2021 14:56 | $1,640.00 | Wayne |
| 15 June 2021 14:55 | $1,630.00 | Jason |
| 15 June 2021 14:55 | $1,620.00 | homesick |
| 15 June 2021 14:54 | $1,610.00 | Wayne |
| 15 June 2021 14:54 | $1,600.00 | Jason |
| 15 June 2021 14:54 | $1,600.00 | Wayne |
| 15 June 2021 14:54 | $1,540.00 | Jason |
| 15 June 2021 14:54 | $1,530.00 | Wayne |
| 15 June 2021 14:52 | $1,520.00 | Jason |
| 15 June 2021 14:52 | $1,510.00 | Wayne |
| 15 June 2021 14:52 | $1,500.00 | Eagle Dares |
| 15 June 2021 14:52 | $1,500.00 | Wayne |
| 15 June 2021 14:51 | $1,210.00 | Eagle Dares |
| 15 June 2021 14:51 | $1,200.00 | Wayne |
| 15 June 2021 14:51 | $1,110.00 | Eagle Dares |
| 15 June 2021 14:51 | $1,100.00 | Wayne |
| 15 June 2021 14:51 | $1,080.00 | Eagle Dares |
| 15 June 2021 14:51 | $1,070.00 | Wayne |
| 15 June 2021 14:42 | $1,060.00 | Eagle Dares |
| 15 June 2021 14:42 | $1,050.00 | homesick |
| 15 June 2021 14:35 | $1,040.00 | Eagle Dares |
| 15 June 2021 14:34 | $1,030.00 | homesick |
| 15 June 2021 12:32 | $1,020.00 | Eagle Dares |
| 15 June 2021 12:13 | $1,010.00 | Kinggy1234 |
| 15 June 2021 11:27 | $1,000.00 | Eagle Dares |