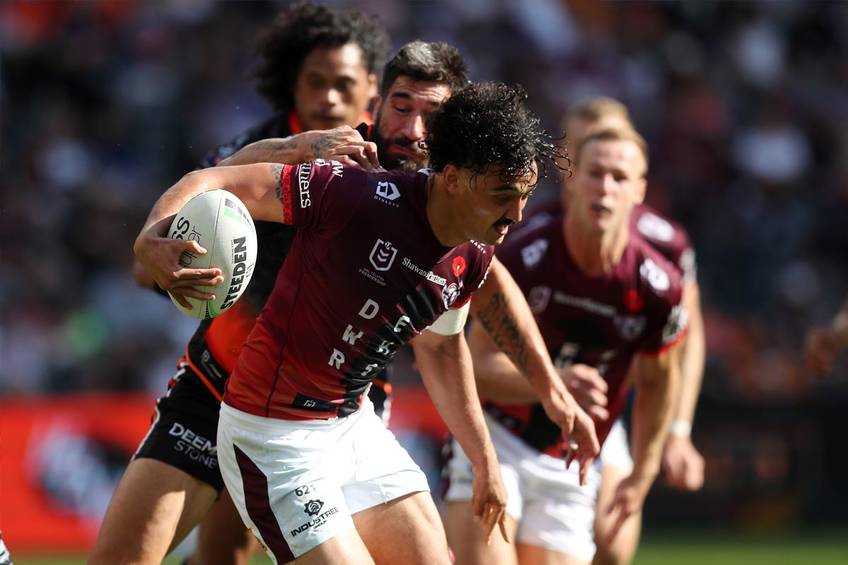 4. Morgan Harper ANZAC Match Jersey
Auction End: 30 April 2021 19:00 (AEDT)
To see how FAN+ auctions work use this link.
Own a piece of history with Morgan Harper's jersey from the team's 40-6 victory against the Wests Tigers in an unforgettable ANZAC Day clash.
Place your bid on this player-issued and personally signed jersey now! Don't miss out on your chance to own a unique piece of Sea Eagles history.
All proceeds will be donated to the Veterans Centre Sydney Northern Beaches.
Please login to bid.
If you do not have an account register here.
Bid History
| | | |
| --- | --- | --- |
| Date/Time | Amount | Bidder Name/User |
| 28 April 2021 16:44 | $810.00 | Paul Dwayne |
| 28 April 2021 16:44 | $800.00 | Craig |
| 28 April 2021 16:44 | $800.00 | Paul Dwayne |
| 28 April 2021 16:44 | $790.00 | Craig |
| 28 April 2021 16:44 | $780.00 | Paul Dwayne |
| 28 April 2021 16:43 | $770.00 | Craig |
| 28 April 2021 16:43 | $760.00 | Paul Dwayne |
| 28 April 2021 16:43 | $750.00 | Craig |
| 28 April 2021 16:43 | $740.00 | Paul Dwayne |
| 28 April 2021 16:43 | $730.00 | Craig |
| 28 April 2021 16:43 | $720.00 | Paul Dwayne |
| 28 April 2021 16:43 | $710.00 | Craig |
| 28 April 2021 16:43 | $700.00 | Paul Dwayne |
| 28 April 2021 16:43 | $690.00 | Craig |
| 28 April 2021 16:43 | $680.00 | Paul Dwayne |
| 28 April 2021 16:43 | $670.00 | Craig |
| 28 April 2021 16:43 | $660.00 | Paul Dwayne |
| 28 April 2021 16:43 | $650.00 | Craig |
| 28 April 2021 16:43 | $640.00 | Paul Dwayne |
| 28 April 2021 16:43 | $630.00 | Craig |
| 28 April 2021 16:43 | $620.00 | Paul Dwayne |
| 28 April 2021 16:42 | $610.00 | Craig |
| 28 April 2021 16:42 | $600.00 | Paul Dwayne |
| 28 April 2021 16:41 | $590.00 | Craig |
| 28 April 2021 16:41 | $580.00 | Paul Dwayne |
| 28 April 2021 10:16 | $570.00 | Craig |
| 27 April 2021 22:34 | $560.00 | Wayne |
| 27 April 2021 22:34 | $550.00 | Blueboy64 |
| 27 April 2021 22:34 | $550.00 | Wayne |
| 27 April 2021 19:50 | $540.00 | Blueboy64 |
| 27 April 2021 19:50 | $530.00 | #family |
| 27 April 2021 19:50 | $520.00 | Blueboy64 |
| 27 April 2021 19:50 | $510.00 | #family |
| 27 April 2021 17:17 | $500.00 | Blueboy64 |
| 27 April 2021 17:17 | $500.00 | Alex b |
| 27 April 2021 17:06 | $450.00 | Blueboy64 |
| 27 April 2021 17:06 | $440.00 | Thommo |
| 27 April 2021 16:03 | $430.00 | Blueboy64 |
| 27 April 2021 14:35 | $420.00 | Eric |
| 27 April 2021 13:24 | $410.00 | Thommo |
| 27 April 2021 13:08 | $400.00 | Lizjam |
| 27 April 2021 13:08 | $400.00 | Eric |
| 27 April 2021 12:46 | $370.00 | Lizjam |
| 27 April 2021 12:15 | $360.00 | mendeye |
| 27 April 2021 12:15 | $350.00 | Levi Smidt |
| 27 April 2021 12:15 | $350.00 | mendeye |
| 27 April 2021 11:01 | $300.00 | Levi Smidt |
| 27 April 2021 11:01 | $300.00 | Eric |
| 27 April 2021 10:53 | $260.00 | Levi Smidt |
| 27 April 2021 10:51 | $250.00 | mendeye |
| 27 April 2021 10:51 | $250.00 | Eric |
| 27 April 2021 10:49 | $220.00 | mendeye |
| 27 April 2021 10:49 | $210.00 | Eric |
| 27 April 2021 10:45 | $200.00 | Levi Smidt |
| 27 April 2021 10:45 | $200.00 | Terry Harper |
| 27 April 2021 10:43 | $190.00 | Levi Smidt |
| 27 April 2021 10:43 | $180.00 | Eric |
| 27 April 2021 10:39 | $170.00 | Levi Smidt |
| 27 April 2021 10:30 | $160.00 | Rocket |
| 27 April 2021 10:19 | $150.00 | Craig |