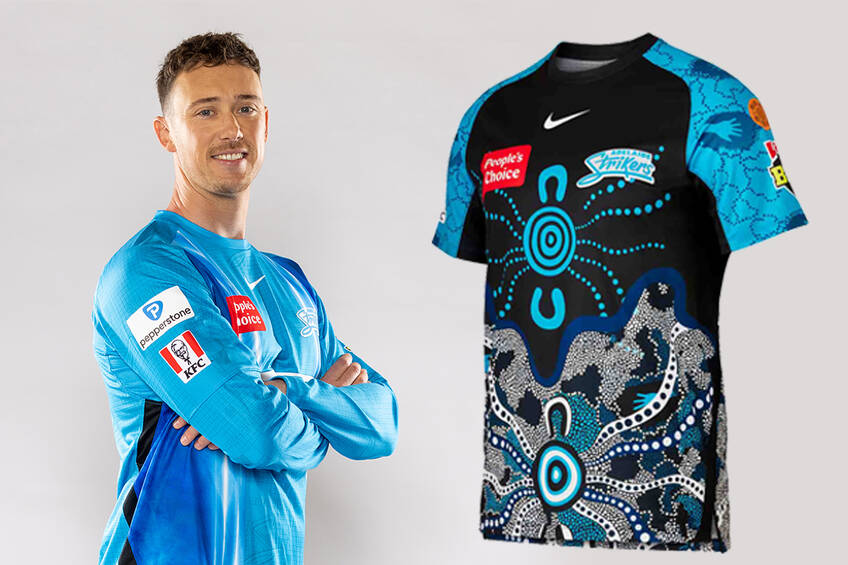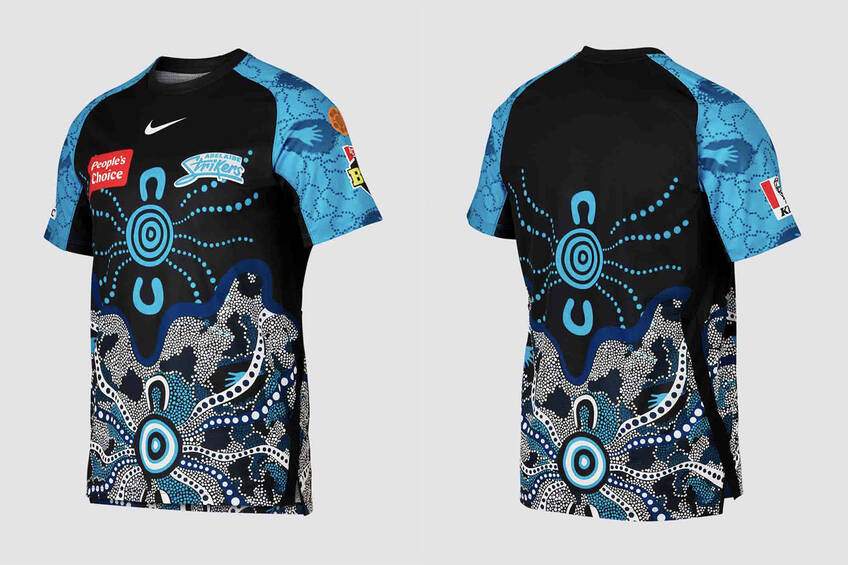 Adam Hose First Nations Round Playing Shirt
Auction End: 24 January 2023 09:00 (AEDT)
To see how FAN+ auctions work use this link.
Tarntanya Kuntuluntularna (Adelaide Strikers) are providing fans an opportunity to own a piece of club history with the auction of our BBL First Nations Round Shirt.
The First Nations Round kit, named Karrampu Manku-nthi, meaning 'to catch something that has been hit or thrown from above', was designed by Aboriginal artist Allan Sumner, a descendent of the Ngarrindjeri, Kaurna and Yankunytjajara people.
The primary element of the Allan Sumner designed shirt is the centric circles in the middle of the artwork. These represent the cricket ground with batter and bowler facing at either end. The dots on either side represent the cricket ball as it is hit and thrown across the field.
The other two features are the hands of the players on the sleeves and the different shades of blue dots, which represent different communities across the country where the Kuntuluntularna (Strikers) play.
These shirts are signed by each member of the named BBL Strikers squad from the First Nations Round on Friday, 20 January played at Adelaide Oval.
All proceeds raised will go to the SACA Junior Aboriginal Cricket Academy who provide cricket, cultural and personal development opportunities for Aboriginal cricketers aged 13 to 17.
Please login to bid.
If you do not have an account register here.
Bid History
| | | |
| --- | --- | --- |
| Date/Time | Amount | Bidder Name/User |
| 23 January 2023 17:42 | $500.00 | Kristie |
| 23 January 2023 17:42 | $480.00 | Ryan |
| 23 January 2023 17:37 | $460.00 | Kristie |
| 23 January 2023 17:37 | $440.00 | Ryan |
| 23 January 2023 17:19 | $420.00 | Kristie |
| 23 January 2023 17:19 | $400.00 | Ryan |
| 23 January 2023 17:12 | $380.00 | Kristie |
| 23 January 2023 16:57 | $360.00 | Sackdizzy |
| 23 January 2023 16:57 | $340.00 | Kristie |
| 23 January 2023 16:57 | $320.00 | Sackdizzy |
| 23 January 2023 16:47 | $300.00 | Kristie |
| 21 January 2023 03:07 | $280.00 | Ryan |
| 21 January 2023 01:06 | $260.00 | Tazzer3 |
| 20 January 2023 18:38 | $240.00 | Ryan |
| 20 January 2023 18:38 | $220.00 | Sienna |
| 20 January 2023 14:44 | $200.00 | Ryan |