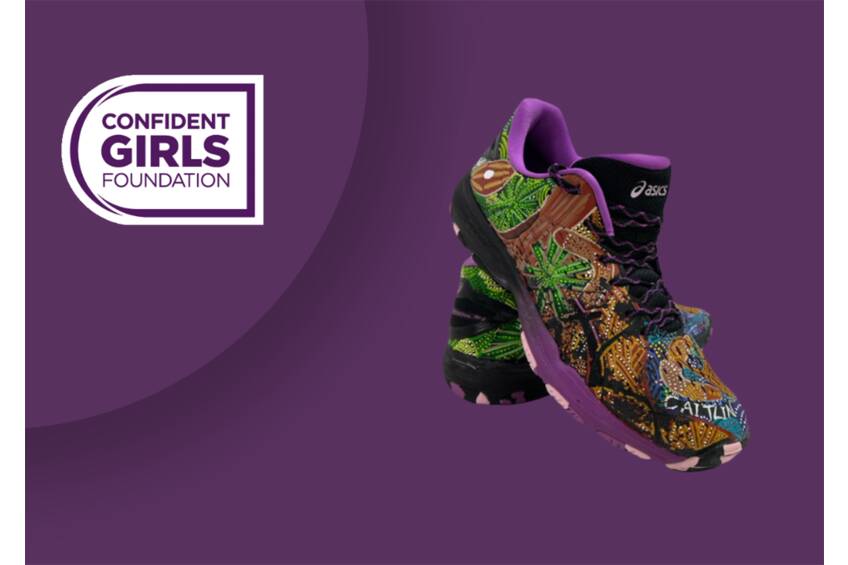 Caitlin Thwaites First Nations 2020 Game match worn shoes
Auction End: 28 September 2023 19:00 (AEST)
To see how FAN+ auctions work use this link.
You are bidding on Caitlin Thwaites First Nations 2020 worn shoes during a winning Premiership Season!
Designed by Breanna Encho – Jarawe from the Quandamooka, Djabugau Nation.
The artwork represents the beauty and connection to Bulmba, drawing on the concept where the Rainforest meets the sea. The mountains where her grandfather travelled cutting timer on Djabgay country, the fan palm leaves- taken from the rainforest and used when arranging Guyga and the blue freshwater meets the sea and the bana that flows down the Barron River over Din Din- Barron Falls.
Don't miss out on your chance to own a true piece of history and help provide opportunities for First Nations Girls.

Prize donated courtesy of Caitlin Thwaites Diamond #158.
Postage is included for Australia ONLY, and purchase that requires postage outside of Australia will incur additional postage charges.
Please allow up to 4 weeks for delivery of the item, these will be sent by tracked post to the address supplied by the winning bidder. Items are not framed.
Please Note: 10% will be added at check out for GST.
Please login to bid.
If you do not have an account register here.
Bid History
| | | |
| --- | --- | --- |
| Date/Time | Amount | Bidder Name/User |
| 28 September 2023 18:59 | $230.00 | NettyTragic |
| 28 September 2023 18:36 | $212.00 | Mel |
| 28 September 2023 18:35 | $202.00 | NettyTragic |
| 28 September 2023 18:35 | $200.00 | Mel |
| 27 September 2023 21:34 | $170.00 | NettyTragic |
| 25 September 2023 12:59 | $160.00 | Skilpatrick |
| 20 September 2023 11:13 | $150.00 | ZLG |