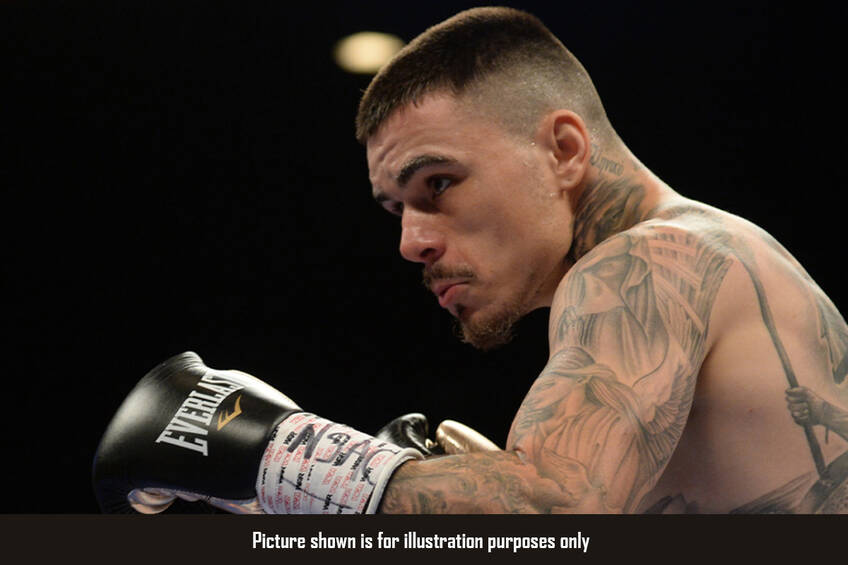 George Kambosos Jr Signed Boxing Glove
Auction End: 17 October 2022 17:00 (AEDT)
To see how FAN+ auctions work use this link.
George Kambosos Jr is an Australian professional boxer who held the WBA (Super), IBF, WBO and The Ring lightweight titles from 2021 to June 2022.
On 5 June 2022, Kambosos Jr. and Devin Haney clashed at Marvel Stadium in Melbourne, Australia to determine the 1st undisputed lightweight champion of the four-belt era.
Kambosos was defeated by Haney after a unanimous decision, with two judges scoring the fight 116-112 and one judge scoring it 118-110, all in favor of Haney.
Now its rematch time and your time to own a piece of history.
NOTE: This glove is not match worn, this is a replica glove signed by George Kambosos Jr.

Please login to bid.
If you do not have an account register here.
Bid History
| | | |
| --- | --- | --- |
| Date/Time | Amount | Bidder Name/User |
| 17 October 2022 16:59 | $550.00 | Savva |
| 17 October 2022 16:59 | $540.00 | GM |
| 17 October 2022 16:59 | $530.00 | Savva |
| 17 October 2022 16:59 | $520.00 | GM |
| 17 October 2022 16:59 | $510.00 | Savva |
| 17 October 2022 16:59 | $510.00 | GM |
| 17 October 2022 16:59 | $500.00 | Savva |
| 17 October 2022 16:59 | $490.00 | CD |
| 17 October 2022 16:59 | $460.00 | GM |
| 17 October 2022 16:59 | $450.00 | Savva |
| 17 October 2022 16:59 | $450.00 | CD |
| 17 October 2022 16:59 | $440.00 | Savva |
| 17 October 2022 16:58 | $430.00 | GM |
| 17 October 2022 16:58 | $420.00 | CD |
| 17 October 2022 16:41 | $410.00 | GM |
| 17 October 2022 09:29 | $400.00 | Savva |
| 17 October 2022 09:29 | $390.00 | Mitchcook |
| 17 October 2022 09:29 | $380.00 | Savva |
| 16 October 2022 15:56 | $370.00 | Mitchcook |
| 16 October 2022 15:55 | $360.00 | Brendan |
| 16 October 2022 15:55 | $350.00 | Mitchcook |
| 16 October 2022 15:55 | $340.00 | Brendan |
| 16 October 2022 15:39 | $330.00 | Mitchcook |
| 16 October 2022 15:37 | $320.00 | Savva |
| 16 October 2022 15:30 | $310.00 | Mitchcook |
| 16 October 2022 14:12 | $300.00 | Savva |
| 16 October 2022 13:45 | $290.00 | SF |
| 16 October 2022 13:13 | $280.00 | Savva |
| 16 October 2022 13:03 | $270.00 | Brendan |
| 16 October 2022 13:03 | $260.00 | SF |
| 16 October 2022 13:03 | $260.00 | Brendan |
| 15 October 2022 08:47 | $250.00 | SF |
Kambosos Jr / Haney Rematch
Kambosos Jr / Haney Rematch