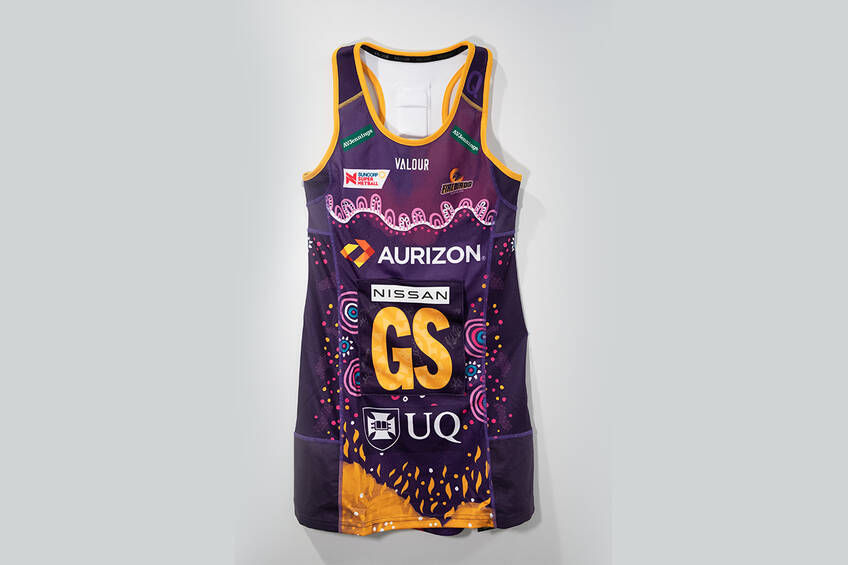 Goal Shooter first nations 2023 dress and Bib
Auction End: 8 June 2023 17:00 (AEST)
To see how FAN+ auctions work use this link.
You are bidding on team issued Firebirds First Nations 2023 dress and signed bib, signed by the team. This the first time that Firebirds First Nations dresses featuring designs by Rachael Sarra are available to own.
Most importantly, all proceeds raised will be for the Queensland Firebirds & Netball Queensland Diamond Spirit program.
The Diamond Spirit uses netball as a vehicle to engage, empower and educate Aboriginal and Torres Strait Islander kids in remote and regional communities across Queensland.
Get behind the fantastic cause and have a chance to own a unique piece of Firebirds history!
Note: Dresses will be signed by every player from the 2023 team and will be supplied unframed.
Please Note: 10% will be added at check out for GST.
Please login to bid.
If you do not have an account register here.
Bid History
| | | |
| --- | --- | --- |
| Date/Time | Amount | Bidder Name/User |
| 1 June 2023 08:51 | $625.00 | C. Costigan |
| 1 June 2023 08:51 | $600.00 | Venzy |
| 1 June 2023 08:50 | $575.00 | C. Costigan |
| 1 June 2023 08:50 | $550.00 | Venzy |
| 26 May 2023 15:59 | $525.00 | C. Costigan |
| 26 May 2023 15:56 | $500.00 | Wombat28 |
| 26 May 2023 15:56 | $500.00 | C. Costigan |
| 26 May 2023 15:51 | $475.00 | Wombat28 |
| 26 May 2023 09:11 | $450.00 | C. Costigan |
| 25 May 2023 15:39 | $425.00 | Wombat28 |
| 25 May 2023 14:48 | $400.00 | Sadie . H |
| 25 May 2023 08:28 | $375.00 | C. Costigan |
| 25 May 2023 00:04 | $350.00 | Wombat28 |
| 24 May 2023 15:25 | $325.00 | C. Costigan |
| 24 May 2023 11:28 | $300.00 | Lindsay.w |
| 24 May 2023 08:40 | $275.00 | Joel Cryer |
| 23 May 2023 19:44 | $250.00 | Lindsay.w |