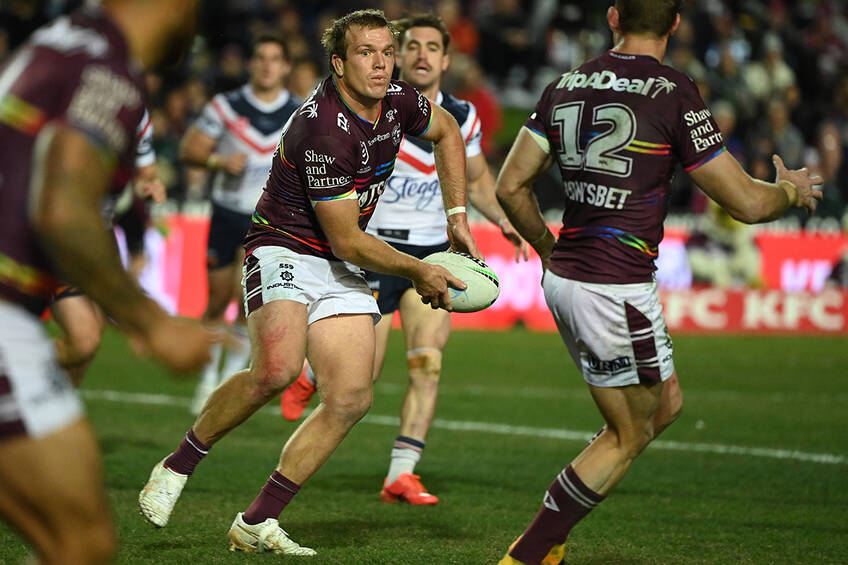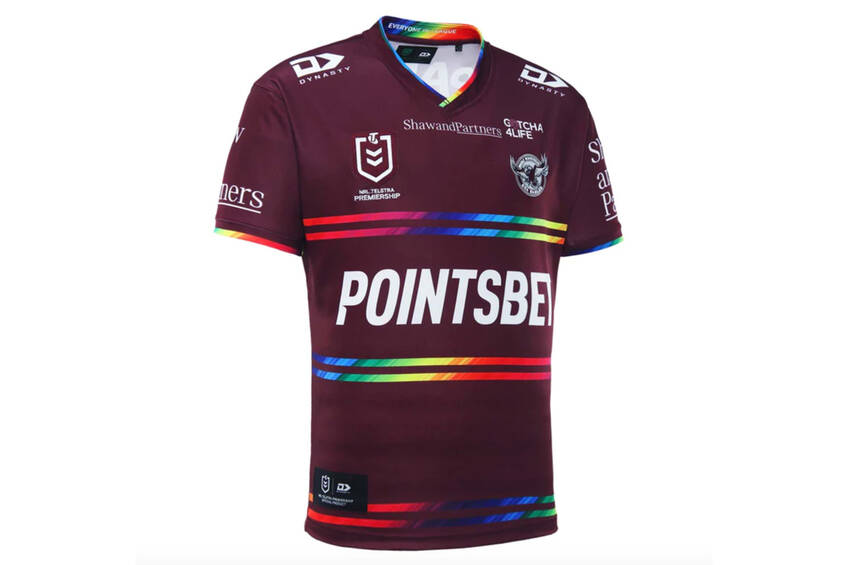 Jake Trbojevic - Everyone in League signed Jersey
Auction End: 3 August 2022 12:00 (AEDT)
To see how FAN+ auctions work use this link.
Join the Manly Warringah Sea Eagles in support the of Gotcha4Life Foundation by bidding on authentic signed player-issued match jerseys from our Round 20 match against the Sydney Roosters – the Gotcha4Life Cup.
The jersey design resembles 'Everyone in League' and details a rainbow strip to replace the traditional white hoops on Manly's home jersey. The jersey represents the rich and diverse history in rugby league and the community. Gotcha4Life's logo appears on the jersey for this game, and all proceeds raised will be donated to the organisation.
Gotcha4Life is an Australian not-for-profit foundation taking action by delivering mental fitness programs that engage, educate and empower local communities.
The Sea Eagles are proud to work with Gotcha4Life on the inaugural Gotcha4Life Cup.
NOTE: These jerseys are player issued, not match worn jerseys.
Please login to bid.
If you do not have an account register here.
Bid History
| | | |
| --- | --- | --- |
| Date/Time | Amount | Bidder Name/User |
| 3 August 2022 11:59 | $1,560.00 | Glenn |
| 3 August 2022 11:56 | $1,350.00 | John Sp |
| 3 August 2022 11:52 | $1,320.00 | Glenn |
| 3 August 2022 11:28 | $1,310.00 | King |
| 3 August 2022 11:27 | $1,300.00 | John Sp |
| 3 August 2022 11:27 | $1,300.00 | King |
| 3 August 2022 11:27 | $1,270.00 | John Sp |
| 3 August 2022 11:27 | $1,260.00 | King |
| 3 August 2022 10:15 | $1,220.00 | John Sp |
| 3 August 2022 09:58 | $1,210.00 | PhillyP |
| 3 August 2022 09:58 | $1,200.00 | John Sp |
| 3 August 2022 09:58 | $1,200.00 | PhillyP |
| 2 August 2022 19:47 | $1,190.00 | John Sp |
| 2 August 2022 19:47 | $1,180.00 | AZ |
| 2 August 2022 19:12 | $1,110.00 | John Sp |
| 2 August 2022 18:39 | $1,040.00 | AZ |
| 2 August 2022 15:41 | $1,030.00 | Mel |
| 31 July 2022 21:55 | $1,020.00 | Wayne |
| 30 July 2022 16:07 | $1,010.00 | Sheza69 |
| 30 July 2022 16:07 | $1,000.00 | Tony Johnson |
| 30 July 2022 16:07 | $1,000.00 | Sheza69 |
| 29 July 2022 20:08 | $970.00 | Tony Johnson |
| 29 July 2022 20:08 | $960.00 | Baz |
| 29 July 2022 20:08 | $950.00 | Tony Johnson |
| 29 July 2022 20:08 | $940.00 | Baz |
| 29 July 2022 20:08 | $930.00 | Tony Johnson |
| 29 July 2022 20:08 | $920.00 | Baz |
| 29 July 2022 20:08 | $910.00 | Tony Johnson |
| 29 July 2022 20:08 | $900.00 | Baz |
| 29 July 2022 19:43 | $860.00 | Tony Johnson |
| 29 July 2022 19:43 | $850.00 | Joe |
| 29 July 2022 19:17 | $760.00 | Tony Johnson |
| 29 July 2022 19:17 | $750.00 | Baz |
| 29 July 2022 18:19 | $730.00 | Tony Johnson |
| 29 July 2022 18:19 | $720.00 | MJM |
| 29 July 2022 18:19 | $710.00 | Tony Johnson |
| 29 July 2022 18:19 | $700.00 | MJM |
| 29 July 2022 18:18 | $690.00 | Tony Johnson |
| 29 July 2022 18:18 | $680.00 | MJM |
| 29 July 2022 17:35 | $670.00 | Tony Johnson |
| 29 July 2022 16:47 | $660.00 | King |
| 29 July 2022 16:47 | $650.00 | Baz |
| 29 July 2022 16:47 | $650.00 | King |
| 29 July 2022 16:47 | $640.00 | Baz |
| 29 July 2022 16:47 | $630.00 | King |
| 29 July 2022 16:29 | $620.00 | Baz |
| 29 July 2022 15:32 | $610.00 | King |
| 29 July 2022 15:32 | $600.00 | Baz |
| 29 July 2022 15:32 | $600.00 | King |
| 29 July 2022 15:32 | $590.00 | Baz |
| 29 July 2022 15:32 | $580.00 | King |
| 29 July 2022 14:09 | $570.00 | Baz |
| 29 July 2022 13:50 | $560.00 | King |
| 29 July 2022 13:50 | $550.00 | Baz |
| 29 July 2022 13:50 | $540.00 | King |
| 29 July 2022 13:43 | $530.00 | Baz |
| 29 July 2022 11:43 | $520.00 | King |
| 29 July 2022 11:40 | $510.00 | Lil |
| 29 July 2022 11:39 | $500.00 | Marsdogga |
| 29 July 2022 11:39 | $490.00 | Lil |
| 29 July 2022 11:18 | $480.00 | Marsdogga |
| 29 July 2022 11:18 | $470.00 | Serb Serb |
| 29 July 2022 11:14 | $450.00 | Marsdogga |
| 29 July 2022 11:14 | $440.00 | Serb Serb |
| 29 July 2022 11:13 | $410.00 | Marsdogga |
| 29 July 2022 11:13 | $400.00 | Serb Serb |
| 29 July 2022 11:13 | $370.00 | Marsdogga |
| 29 July 2022 11:13 | $360.00 | Serb Serb |
| 29 July 2022 11:13 | $350.00 | Marsdogga |
| 29 July 2022 11:13 | $340.00 | Melissa A |
| 29 July 2022 11:13 | $330.00 | Marsdogga |
| 29 July 2022 11:13 | $320.00 | Melissa A |
| 29 July 2022 11:13 | $310.00 | Marsdogga |
| 29 July 2022 11:13 | $300.00 | Melissa A |
| 29 July 2022 11:11 | $290.00 | Marsdogga |
| 29 July 2022 11:11 | $280.00 | Melissa A |
| 29 July 2022 11:11 | $270.00 | Marsdogga |
| 29 July 2022 11:11 | $260.00 | Melissa A |
| 29 July 2022 11:06 | $250.00 | Marsdogga |