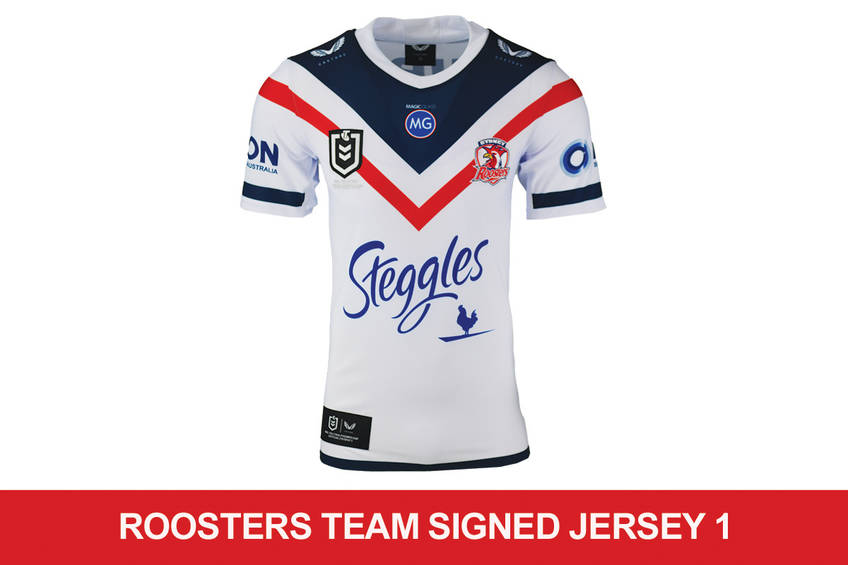 Roosters signed team Jersey 1
Auction End: 15 July 2021 17:00 (AEDT)
To see how FAN+ auctions work use this link.
As part of this Bulldogs auction, the Sydney Roosters have also donated jerseys signed by their squad, own a piece of history with a signed Roosters jersey from the Bulldogs Round 17 match against the Sydney Roosters at Bankwest Stadium.
This jersey will be personally signed by the Roosters squad and will come with a Certificate of Authenticity.
Proceeds from the auction will be donated to the Jenny Souris Foundation - www.jsf.org.au
The Jenny Souris Foundation was established in February 2021 in honour of the late Jenny Souris, who has been a long term Bulldogs partner.
JSF will embrace hope, supporting people and their families to overcome the financial burden created through illness. The Jenny Souris Foundation vision over the next 3 years is to help 1% of the population receive the best care and treatment needed.

Place your bid now – don't miss out on your chance to own a unique piece of Roosters Memorabilia.

Please login to bid.
If you do not have an account register here.
Bid History
| | | |
| --- | --- | --- |
| Date/Time | Amount | Bidder Name/User |
| 14 July 2021 21:15 | $400.00 | Trish |
| 14 July 2021 21:15 | $400.00 | BUD |
| 14 July 2021 21:15 | $355.00 | Trish |
| 14 July 2021 21:15 | $350.00 | BUD |
| 14 July 2021 21:14 | $330.00 | Trish |
| 14 July 2021 21:14 | $325.00 | BUD |
| 14 July 2021 21:14 | $320.00 | Trish |
| 14 July 2021 21:14 | $315.00 | BUD |
| 14 July 2021 21:14 | $310.00 | Trish |
| 14 July 2021 21:14 | $305.00 | BUD |
| 14 July 2021 21:13 | $300.00 | Trish |
| 14 July 2021 21:13 | $295.00 | BUD |
| 14 July 2021 21:13 | $290.00 | Trish |
| 14 July 2021 21:13 | $285.00 | BUD |
| 14 July 2021 11:45 | $280.00 | Trish |
| 14 July 2021 11:45 | $275.00 | PA88UL |
| 14 July 2021 11:45 | $270.00 | Trish |
| 14 July 2021 11:45 | $265.00 | PA88UL |
| 11 July 2021 22:05 | $260.00 | Trish |
| 11 July 2021 10:16 | $255.00 | Paul23 |
| 11 July 2021 10:16 | $250.00 | Nutstar |
| 11 July 2021 10:16 | $250.00 | Paul23 |
| 11 July 2021 10:16 | $245.00 | Nutstar |
| 11 July 2021 10:16 | $240.00 | Paul23 |
| 11 July 2021 10:16 | $235.00 | Nutstar |
| 11 July 2021 10:16 | $230.00 | Paul23 |
| 11 July 2021 06:56 | $225.00 | Nutstar |
| 10 July 2021 22:47 | $215.00 | Paul23 |
| 10 July 2021 21:21 | $200.00 | Ryan Jeffcoat |