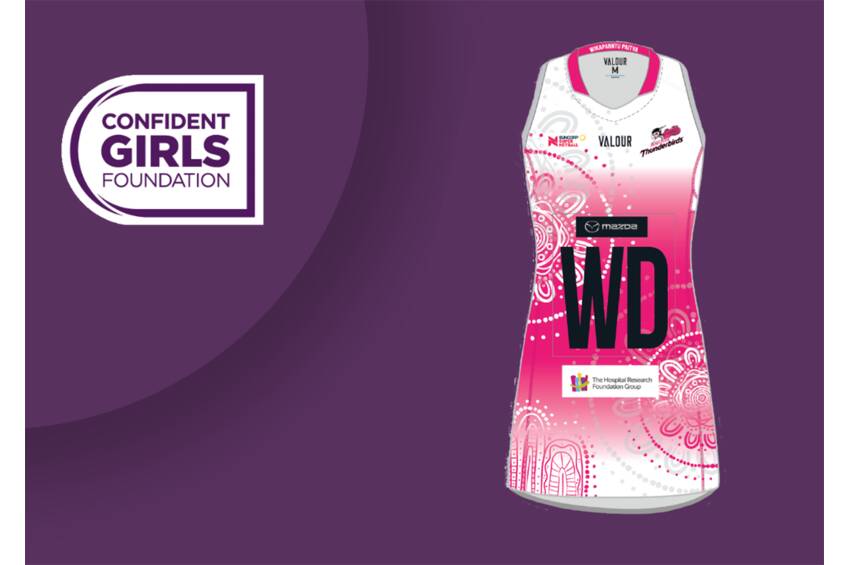 Signed 2023 Adelaide Thunderbirds First Nations Dress
Auction End: 28 September 2023 19:00 (AEST)
To see how FAN+ auctions work use this link.
You are bidding on a Signed 2023 Adelaide Thunderbirds First Nations dress signed by the Winners of the SSN 2023 season, Adelaide Thunderbirds Athletes.
Designed by Shane Cook in collaboration with Saasta the design represents the steps in the Netball SA pathway, community and coming together as a team. The hills represent the challenges and setbacks that the players may have faced and overcome in their journeys. The stars represent supporters and people who have helped along the way i.e., coaches, family, friends saasta. The various lines within the dress are pathways and journeys that are yet to come for the players.
A special dress to own following the T-birds 2023 WIN. Don't miss out on your chance to own a true piece of history and help provide opportunities for First Nations Girls.
Prize donated courtesy of Netball South Australia.
Postage is included for Australia ONLY, and purchase that requires postage outside of Australia will incur additional postage charges.
Please allow up to 4 weeks for delivery of the item, these will be sent by tracked post to the address supplied by the winning bidder.
Items are not framed.
This dress comes with a Certificate of Authenticity.
Please Note: 10% will be added at check out for GST.
Please login to bid.
If you do not have an account register here.
Bid History
| | | |
| --- | --- | --- |
| Date/Time | Amount | Bidder Name/User |
| 28 September 2023 17:04 | $400.00 | Chloe |
| 28 September 2023 13:03 | $390.00 | N1c |
| 28 September 2023 10:56 | $380.00 | Skilpatrick |
| 28 September 2023 09:23 | $370.00 | N1c |
| 25 September 2023 12:58 | $360.00 | Skilpatrick |
| 23 September 2023 17:23 | $350.00 | Chloe |
| 23 September 2023 17:22 | $340.00 | Mina |
| 23 September 2023 17:22 | $340.00 | Chloe |
| 23 September 2023 17:22 | $330.00 | Mina |
| 23 September 2023 17:22 | $320.00 | Chloe |
| 23 September 2023 17:22 | $310.00 | Mina |
| 23 September 2023 17:22 | $300.00 | Chloe |
| 23 September 2023 17:22 | $290.00 | Mina |
| 23 September 2023 17:22 | $280.00 | Chloe |
| 23 September 2023 17:09 | $270.00 | Mina |
| 23 September 2023 07:02 | $260.00 | Chloe |
| 23 September 2023 07:02 | $250.00 | Mina |
| 23 September 2023 07:02 | $240.00 | Chloe |
| 23 September 2023 07:01 | $230.00 | Mina |
| 23 September 2023 07:01 | $220.00 | Chloe |
| 15 September 2023 08:56 | $210.00 | Mina |
| 15 September 2023 08:56 | $200.00 | Bev |
| 15 September 2023 08:55 | $190.00 | Mina |
| 15 September 2023 08:55 | $180.00 | Bev |
| 13 September 2023 11:16 | $170.00 | Mina |
| 11 September 2023 09:51 | $160.00 | Chloe |
| 11 September 2023 08:44 | $150.00 | Nathan O'Kelly |