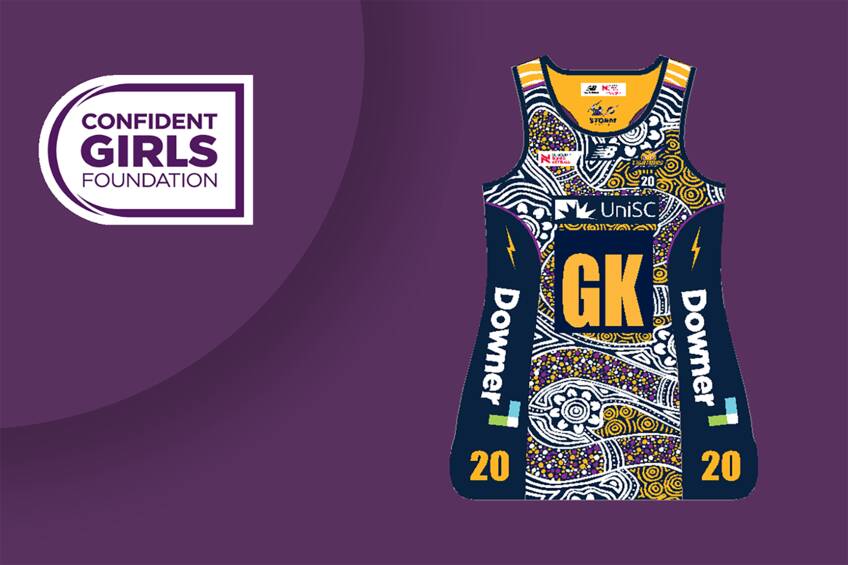 Signed Sunshine Coast Lightning 2023 First Nations Dress
Auction End: 28 September 2023 19:00 (AEST)
To see how FAN+ auctions work use this link.
You are bidding on a signed Sunshine Coast Lightning 2023 First Nations Dress, worn by Laura Scherian!
Designed by Jerome Warno, a Wakka Wakka and Tuwharetoa Artist.
Three stories are portrayed in the artwork. The story of the creation of country. The sacred country, Australia, was created by the rainbow serpent. The painting depicts part of the serpent's journey over Kabi Kabi country. The story of our women. The culture reveres women for their role as keepers of language, song, story, and Iore. The final story in about the Sunshine Coast Lightning team members. Representing the different birthplaces of the women on the team and their family groups.
Don't miss out on your chance to own a true piece of history and help provide opportunities for First Nations Girls.
Prize donated by Sunshine Coast Lightning and Laura Scherian- Confident Girls Foundation Ambassador.
Postage is included for Australia ONLY, and purchase that requires postage outside of Australia will incur additional postage charges.
Please allow up to 4 weeks for delivery of the item, these will be sent by tracked post to the address supplied by the winning bidder. Items are not framed.
Please Note: 10% will be added at check out for GST.
Please login to bid.
If you do not have an account register here.
Bid History
| | | |
| --- | --- | --- |
| Date/Time | Amount | Bidder Name/User |
| 28 September 2023 18:59 | $560.00 | Jillo |
| 28 September 2023 18:59 | $550.00 | Bec92 |
| 28 September 2023 18:59 | $540.00 | Jillo |
| 28 September 2023 18:59 | $530.00 | Bec92 |
| 28 September 2023 18:59 | $520.00 | Jillo |
| 28 September 2023 18:59 | $510.00 | Bec92 |
| 28 September 2023 18:59 | $500.00 | Jillo |
| 28 September 2023 18:59 | $490.00 | Bec92 |
| 28 September 2023 18:59 | $480.00 | Jillo |
| 28 September 2023 18:59 | $470.00 | Bec92 |
| 28 September 2023 18:59 | $460.00 | Jillo |
| 28 September 2023 18:59 | $450.00 | Bec92 |
| 28 September 2023 18:59 | $440.00 | Jillo |
| 28 September 2023 18:59 | $430.00 | Bec92 |
| 28 September 2023 18:59 | $420.00 | Jillo |
| 28 September 2023 18:59 | $410.00 | Bec92 |
| 28 September 2023 18:59 | $400.00 | Jillo |
| 28 September 2023 18:59 | $390.00 | Bec92 |
| 28 September 2023 18:59 | $380.00 | Jillo |
| 28 September 2023 18:59 | $370.00 | Bec92 |
| 28 September 2023 17:44 | $360.00 | Jillo |
| 28 September 2023 17:44 | $350.00 | Bec92 |
| 28 September 2023 17:44 | $350.00 | Jillo |
| 28 September 2023 17:44 | $340.00 | Bec92 |
| 28 September 2023 17:44 | $330.00 | Jillo |
| 27 September 2023 18:41 | $320.00 | Bec92 |
| 26 September 2023 19:00 | $310.00 | Jillo |
| 26 September 2023 18:58 | $300.00 | Chugchug |
| 26 September 2023 18:58 | $290.00 | Jillo |
| 26 September 2023 18:58 | $280.00 | Chugchug |
| 26 September 2023 18:58 | $270.00 | Jillo |
| 24 September 2023 18:50 | $260.00 | Chugchug |
| 24 September 2023 18:50 | $250.00 | Bec92 |
| 16 September 2023 13:44 | $220.00 | Chugchug |
| 14 September 2023 01:03 | $210.00 | Adsyjackson |
| 14 September 2023 01:02 | $200.00 | Chugchug |
| 14 September 2023 01:02 | $190.00 | Adsyjackson |
| 14 September 2023 01:02 | $180.00 | Chugchug |
| 14 September 2023 01:02 | $170.00 | Adsyjackson |
| 13 September 2023 20:45 | $160.00 | Chugchug |
| 11 September 2023 15:34 | $150.00 | Adsyjackson |